I cannot wait any longer, with all the goodies I find on Pinterest coupled with fun finds of my own it is a wonder our home didn't morph in to Spookville back in April!!! I wanted to share my favorite Halloween decor finds to give you a little pre-holiday inspiration...
Tips for haunting your crypt...
These are simply fantastic! I picked these up at Micheal's Craft Store last year, a pack of 8 was around $8 but as we all know Micheal's has fantastic sales and coupons so use em! These lights are super bright and a few will light up a room with an eerie green or red glow, submerse them in your Halloween punch or insert them in the eye sockets of your skeletons!!
Check out the huge spiders below!!! We live in a condominium and decided to hang a few of these creepy creatures on our deck and ceiling.
Love this idea, what to make your ghoulish refreshments glow? Add tonic water as shown at ourbestbites.com. Change out a few of your regular light bulbs for black lights for extra effect. Black lights and other colored light bulbs such as green and red can be found at Walmart, Micheal's and most other hardware stores.
Dry Ice Cauldron- For this one take a larger plastic black cauldron and (using gloves) place pieces of dry ice along with a cup or two of cool water in the bottom of the cauldron. Then take a smaller black cauldron and place it inside the larger cauldron and fill with your beverage of choice. For extra effect use the submersible led lights shown above for added creepy effect.
These are fantastic, holographic pictures in frame, when you look at them at different angles the image morphs in to a creepy zombie or ghost. I have found these in the past at Micheal's but also at the Dollar Store, if you purchase them from the dollar store you can pop the print out of the inexpensive plastic frame and put them in to your own frames at home.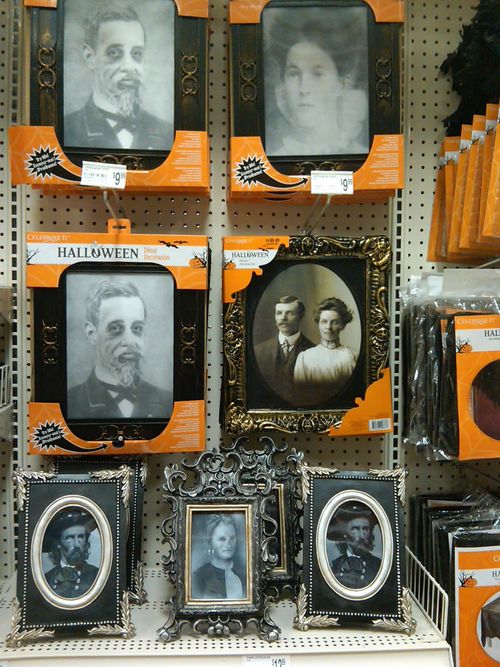 One of my favorites, perch crows on your front porch rail, your mailbox or your window sills for added ambiance...
Glow Sticks on the front porch steps for Halloween Night!!!
Here are a few other tips and tricks;
Cheesecloth can be purchased at craft stores and Halloween specialty shops, drape it in doorways, over windows or as a tablecloth.
Place Black light bars under couches, tables or in discrete hiding places .
Borrow or buy an automatic fog machine, place it discreetly by the front door to greet guests with a creepy fog when they enter your crypt.
Turn ordinary white candles in to candles mysteriously dripping with blood by lighting a red candle and letting the wax drip on to the white candle and roll down the sides.
Use inexpensive cobwebs and fake spiders to haunt your home.
Happy Haunting!!!